Processes for identifying materiality (key issues)
In order to contribute to a sustainable society and continuously increase corporate value, Nihon Chouzai identifies material issues and promotes highly effective activities that link management strategies with sustainability. Materiality is identified based on discussions cutting across the organization over approximately 6 months, and is checked against Nihon Chouzai's business activities, 17 SDGs, and 169 targets tied into those goals. We studied the depth of relationships and relevancy and conducted extensive discussions with project teams, and incorporated an outside perspective in the final evaluations.
Nihon Chouzai Group Materiality Priority Map (Materiality Map)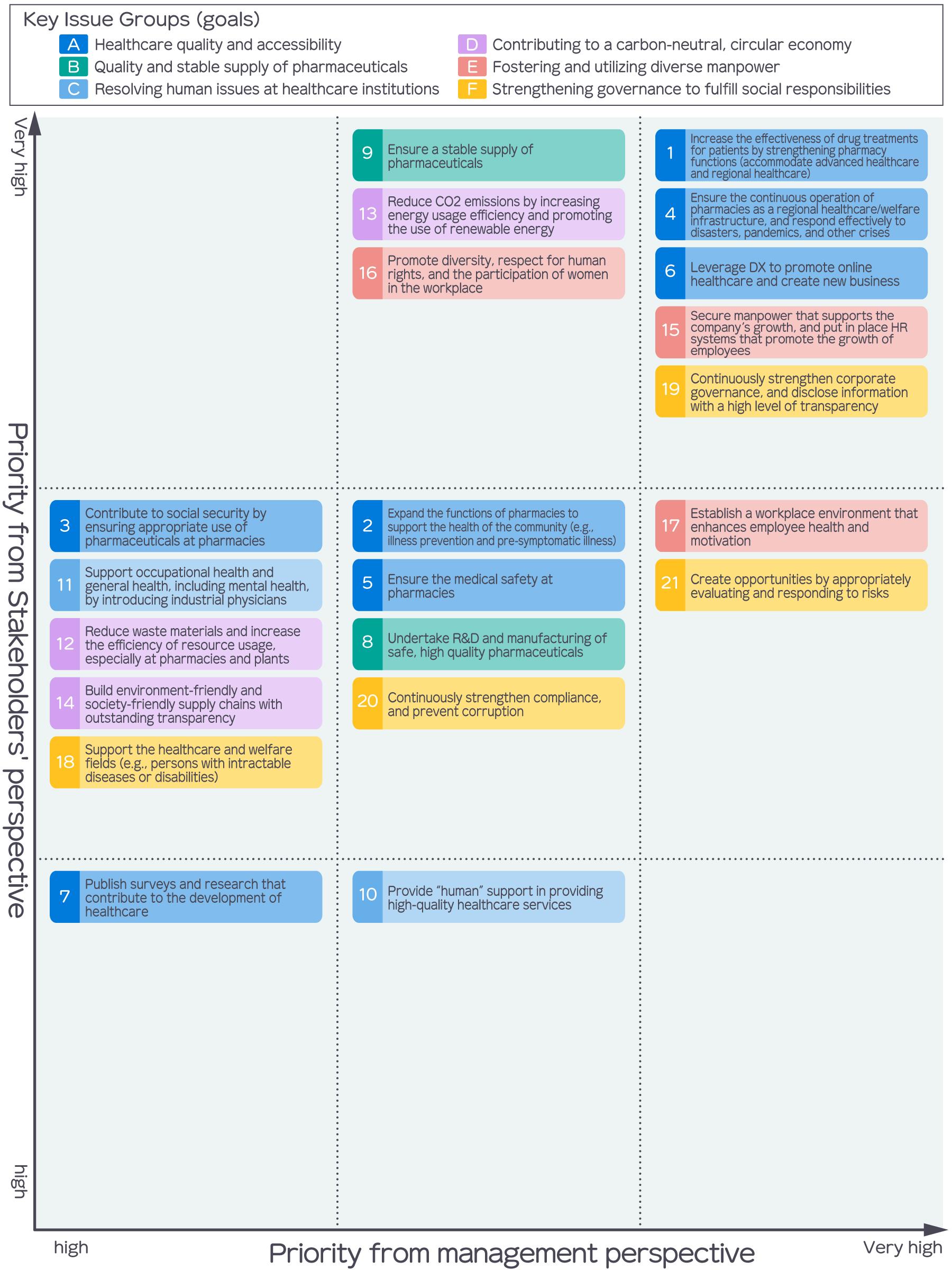 Processes for identifying materiality
STEP 1: Analyze current status and isolate issues
To identify issues, we studied a broad range of global societal issues that Nihon Chouzai should resolve in the medium and long term, using international frameworks and guidelines such as SDGs and ISO26000 as a reference. After isolating these issues using SDGs as a starting point, we conducted discussions and created a list of issues.
STEP 2: Evaluate issues and set priorities
The project teams conducted extensive discussions regarding the candidate issues on the list, and evaluated and narrowed down those issues based on interviews with stakeholders. Issues are evaluated using two indexes: Priority from a management perspective, and priority from the stakeholders' perspective. "Priority from a management perspective" is set based on contributions to the continued growth of the Nihon Chouzai Group, while "priority from the stakeholders' perspective" takes into account the needs of customers, business partners, employees, the environment, regional society and the community, shareholders, and investors, as well as expectations placed on the company. The results of these evaluations were plotted on a materiality map as the basis for studies of priorities. (Refer to the Materiality Map above)
STEP 3: Incorporate opinions of third-party experts
Once these issues had been evaluated and narrowed down, we arranged venues for exchanges of opinions among Nihon Chouzai management and outside experts, to incorporate a more objective perspective.
STEP 4: Obtain approvals from the Sustainability Committee and the Board of Directors
Based on the opinions of third-party experts, the Nihon Chouzai Group has established six categories of key issues to be targeted through business activities, and has identified 21 material issues related to each of these categories. These items were confirmed by the Sustainability Committee, and final decisions were made with the approval of the Board of Directors.